In simplistic terms new SMAC technologies (Social, Mobile, Analytics and Cloud) are driving businesses to create a new business advantage with its customers and the global market. This transformation is engaging new technologies requiring IT services solutions to utilize specialized teams based on speed-to-market delivery (e.g. Agile delivery), where the teams have fluency and intimacy in the customer, customer's culture, business and business' culture.
THE TRANSFORMATION TO A DIGITAL BUSINESS
Digital Technology allows companies to break some of the traditional paradoxes of operational excellence, helping to build capabilities that improve efficiency and agility, power new customer engagements, and enable new business models.
Digital drives an evolving need for a new variety and formula of skills at a time when we are witnessing a skills drought. This issue will be with us for some time – demand will continue to outstrip supply for basic IT skills. This will become further complicated by the growing demand for newer skills as driven by the appetite of digital. A vacuum of senior practitioners has been caused by the routine offshoring of IT work and the associated dwindling in home grown skills. This has not only resulted in a lack of those capable of execution but also in more senior and leadership positions. For example, Gartner says: "By 2016, more than 50% of agile transitions will be substantially challenged due to a shortage of experienced agile practitioners".
SKILL SHORTAGES WILL REQUIRE SOURCING MODEL CHANGES
Succeeding here requires some different thinking toward technologies, people and the frameworks used to combine the two in development, deployment and support of the outcomes.
Gartner, Inc. a leading technology analyst and consulting company, released a grid (shown below) that defines what technical resource solution should be engaged for a particular type of technology being deployed. Projects driven by Digital Transformation tend to be complex, volatile, requiring high levels of business involvement and are inconsistently documented. The resource solutions that aligns most closely is onsite or onshore (in the upper left and right quadrants).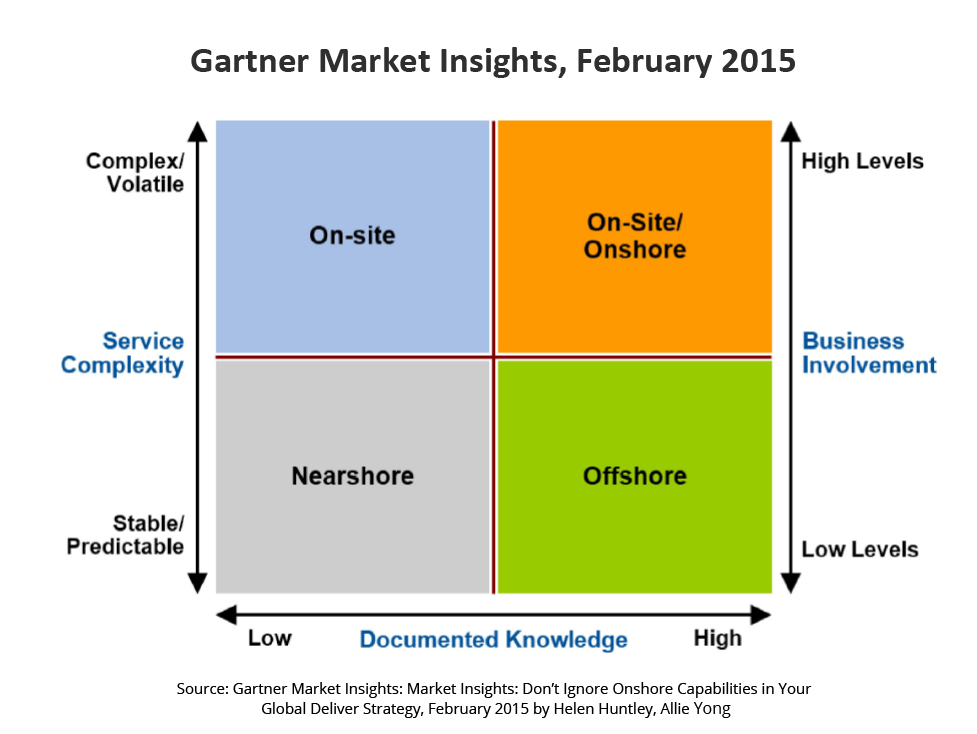 Given a perfect world we'd all prefer to have all our people in the same location all the time. The obvious benefits being communication, collaboration and understanding resulting in higher quality and increased speed of delivery, but the economics of the budget just won't allow us to do this. Therefore, we have to establish an acceptable balance or price, quality and risk with respect to our software development, deployment and support investments. In-house hires give us high price, highest quality, lowest risk, – but the skills shortage and budget economics won't support this exclusively. Contractors give us highest price, high quality, low (but not lowest) risk. Again, these resources remain expensive and elusive with the same budget constraints. Offshore gives us lowest price, lowest quality, highest risk. While Y2K and Waterfall lined up well for offshore, the characteristics of digital transformation just don't align well with this model. Onshore gives us low price, high quality, lower risk with the characteristics of digital being harmonious with the Onshore model.
SPEED TO MARKET DEMANDS AGILE METHODOLOGIES
Finally digital business demands these skills be combined into a less familiar method – Agile. Agile delivers speed and better reflects the needs of the business. Gartner says: "IT work such as Agile development epitomizes how IT must work with the business buyer/influencer in the digital business era for new development and innovation". Gartner identified Agile development as an integral part of the portfolio of methods that the CIO uses to deal with the increasing business demand for application capability and innovation.
Skills, budgets, and the needs of the business converge with the inevitable conclusion that no one organization can achieve success on their own. It requires some different thinking toward technologies, people and the frameworks used to combine the two. We must rethink the model we use to manage our way through the changing landscape accepting the use of various service delivery platforms – those which are most suited to the digital nature of the modern world.